Horizon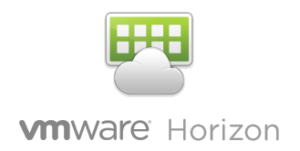 Overview
VMware Horizon (aka Horizon View, aka VMware View) is VMware's End-User Computing product line which provides Desktop and Application Virtualization.  it consists of:
Horizon View – The desktop and application broker.    Every VMware VDI environment will start with a View Connection Server
AppVolumes – This is a complimentary product to Horizon View which enables easier management of large scale environments.  AppVolumes allows you to layer applications onto desktops in  your VDI environment.  This means fewer "master" desktop images
Dynamic Environment Manager (formally known as User Environment Manager) – DEM allows you to separate the persona of the user (ie: their settings) from the virtual desktop.  This allows them to use any VDI desktop but still have it feel like it is their computer.  The Enterprise edition of DEM (included with Horizon Enterprise) also has the capability to create and enforce granular policies that can make it easier to manager environments at scale.
Learning
VMware TechZone – This is the starting place to learn more about VMware Horizon
Useful Links
Compatibility
Supported Windows 10 on Horizon 8 (2006 & later) – KB 78714
Certificates