I needed to update a few bits of information for the networks in my on-prem Aria Automation deployment (IPv4 CIDR, default gateway, domain, and DNS Info).  It would have been pretty easy to update via the GUI.  I thought learning to update Network Fabric IP Info in Aria Automation using APIs would be a great opportunity to learn.
I thought I would share what I found to hopefully help someone new to APIs. This could also be useful if someone needed to make these changes in bulk.    Let's take a look!
Figuring things out
I started by reviewing the Aria Automation API Documentation (also known as the Swagger UI) built into each vRA install (in your environment go to https://your-vra-fqdn.com/automation-us/api/docs).  Under the Infrastructure As A Service category, I found some APIs for Network Profiles and vSphere Fabric Networks.
The Swagger UI will help describe how to use the APIs and even provides an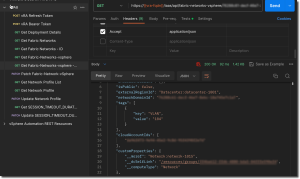 interface to test them out.   I like using Postman for modeling and testing.  It gives me the ability to save collections of API calls and has very useful features which make the process of learning and using APIs much easier.
It took me a little time in Postman to understand how to properly interact with the the APIs to get the results I was looking for.
Continue reading "Update Network Fabric IP Info in Aria Automation using APIs"