VMworld 2018 US Recap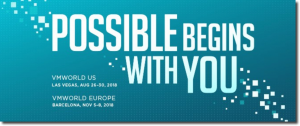 VMworld 2018 US is in the books!  I thought it might be useful to share a recap of the announcements and a link to view a replay of the sessions.
You can review the full list of VMworld 2018 US announcements at VMworld.com.   You can also listen to the Virtually Speaking podcast – Episode 89.  They just published a nice recap.  
A few highlights for you: 
vSphere 6.7 Update 1 and vSphere Platinum Edition: 

vSphere Platinum Edition – This is a new edition of vSphere, adding in AppDefense to go along with all current capabilities in the Enterprise Plus license. Also included in this edition is a vCenter plug-in that tightly integrates AppDefense and vCenter Services for ease of administration and enhanced visibility for vSphere administrators.
vSphere 6.7 Update 1

Fully featured HTML5 client
Upgrade path from vSphere 6.5 Update 2
Enhanced support for NVIDIA Quattro VMs
vCenter Server Convergence Tool
Enhanced content libraries
The majority of the sessions from VMworld 2018 are now available for replay and can be accessed on videos.vmworld.com.
VMworld 2018 Europe will be in Barcelona in early November.  I wonder what announcements we will hear from that event?