Get Notified about VMware Security and Technical Updates
Do you rely on Twitter to get notifications on updates to VMware Security Advisories or Technical Updates?  Did you know that you can easily be among the first to get notified when new VMware Security Advisories and Technical Updates are published? Sign up today!    You might just be the one sending the tweet next time!
VMware Security Advisories
VMware publishes Security Advisories for their products at https://vmware.com/security/advisories.html.  While I do encourage you to bookmark this page, there are 2 easy ways to set up automatic notifications for yourself:
RSS Feed – copy this URL and add it to your favorite newsreader
Security Advisories mailing list – This is an opt-in/opt-out mailing list which is only used to notify customers of new or updated security advisories
Both of these can be found at the top right-hand side of the advisories page: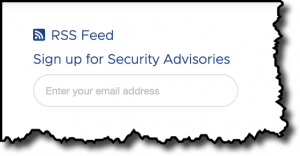 Knowledge Base Article Subscription
VMware also has a Knowledge Base that is used to publish technical notes and advisories on products. These are guidance on known issues as well as notes about specific conditional situations.  This can include information that customers need to know about workarounds and patches for security advisories.
Each KB article has a link that allows customers to subscribe to this document.  When updates to the document are published – subscribers will receive e-mail notification of the update.
To subscribe to a KB article:
Open the KB article
Click on the Subscribe link located under the title on the right-hand side (you will be prompted to login to the VMware Customer Connect Portal)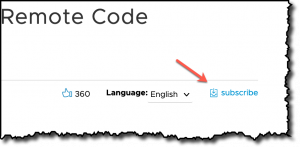 I have also covered these topics in a short video. If you like consuming content this way, consider subscribing to my YouTube Channel!