Skyline Advisor
Proactive Intelligence for your VMware environment
Skyline Advisor brings Proactive Intelligence to your VMware Environment.  This free toolwith Active Support Contract can help identify known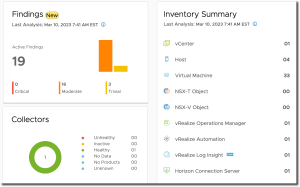 issues lurking in your environment and provide solutions before they become user-impacting problems.
Skyline Advisor can also make your life easier by automating the log bundle upload process when you work with VMware Global Support. In the past you may have had to wait while the log bundle was generated and downloaded – only to watch the progress bar as you uploaded the large file to support. With Skyline Advisor, this process takes only a few mouse clicks and you can get back to your day immediately.
Skyline Advisor can also help your support engineer work on your problem by allowing them to request new log bundles – when you enable Auto Approve Log Requests.
Benefits of using Skyline Advisor
Skyline Overview
Skyline Advisor Demo
Getting Started with Skyline Advisor
Setting up Skyline Advisor is pretty easy and takes only a few minutes.  You will:
Create a VMware Cloud Services Account
Generate a secure token which will associate the collector with your Cloud Services account
Download and install the Skyline Collector
Apply the security token and configure the endpoints in your environment (vCenter, Horizon, etc)
Enjoy the benefits of Skyline Advisor!
The following links provide a deeper walk through of the process
Best Practices
Cloud Services Organization

 Choose a name for your Cloud Services Organization that matches the common name used by your company when purchasing VMware licenses
Add multiple individuals as Owners in the Cloud Services Organization

Collector Appliance

When deploying the collector appliance, choose a memorable name – such as Skyline Collector
Enable Auto Updates – The collector is refreshed with updates frequently.  Allowing it to auto update will ensure you have the latest features available
Root Password – The collector is linux-based and has a root account.  By default this password does expire.  You can choose to disable password expiration or change the expiration timeframe to match your security policy and set reminders to update the password at those intervals.
Active Directory Integration – The collector appliance does support AD integration, and you can enable this and add the appropriate AD Group for your administrators to make management easier
Useful Links