vToolbelt – April 2018
Upcoming Events

AppDefense 101 Webcast (multiple dates) – Join us to learn how VMware AppDefense makes threat detection and response an intrinsic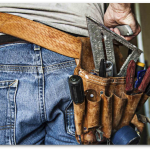 component of your virtualized applications and data. VMware Security SME Geoff Shukin will cover the unique approach AppDefense takes to protecting your applications – a focus on understanding and enforcing "known good" behavior, rather than chasing after bad behavior – as well as show off the product's capabilities in a live demo of AppDefense protecting against NotPetya. Get more information and register here.
VM Lifecycle Management (April 19th)– This is an event just for TAM customers.  Learn more about best practices around managing the lifecycle of your VMs (upgrading tools, virtual hardware and more).    You can register here.
Funding Higher Education Workforce Initiatives (April 25) – This webinar assembles a few thought leaders for an hour discussion on funding opportunties that can take your campus workforce to the next level.  Learn more and register here.
Toledo VMUG (June 27) – That's right!  The Toledo VMUG is starting to take off.  Head over to VMUG.COM to check out the agenda and register.   If you are going – let me know!  If enough of you are going, I might even show up!
Cincinnati VMUG UserCON (9/11) – Save the date and plan to be at the Sharonville Convention Center on November 2nd for the VMUG UserCon in Cincinnati.
VMworld 2018
VMworld US returns to Las Vegas on August 26-30th 2018
VMworld Europe will be back in Barcelona from November 5-8 2018
Notes from the Field
Hot off the press – vSphere 6.7 has been released!  There is a lot to cover here, and I haven't had time to digest it all.  Here are a few highlights.
A few very important things to know:
Test first! VMware works very hard to deliver quality products; but all software comes with bugs.  Don't rush to production – test first!
You have to be on at least vSphere 6.0 for a direct upgrade to 6.7.   If you are still on 5.5 – time to plan that upgrade to 6.x!
Windows vCenter – The bell tolls for thee.  6.7 will be the last version of vCenter on the Windows platform.
[always] Check compatibility – http://www.vmware.com/go/hcl.  There is also a KB article (KB 52583) about device compatibility.  This appears to be focused on I/O or RAID controllers
Speaking of compatibility – there are a few VMware products that are NOT compatible with vSphere 6.7 at this time.     As of this moment, the following VMware products are not supported on vSphere 6.7 – Horizon View, NSX, vSphere Integrated Containers, vSphere Integrated OpenStack.  There is a KB article on this – KB53704.  Typically VMware attempts to upgrade these products to compatible versions within 1 business quarter.
There is a lot of reading to do.  I will have more on this topic in a future newsletter.  For now, take a look at the following resources:
vSphere
vSphere Configuration Maximum Tool – VMware is releasing a new tool to assist in looking up config maximums.  Rather than the static pages of the past, this tool will be a more interactive way to find the information you need
vSAN
vRealize
NSX
Misc
PowerCLI 10 poster – An updated poster with all of the cmdlets and reference material to help you make the most out of the new release of PowerCLI
vRealize Operations – from Zero to Useful – vBrownbag presents a talk on how to implement vROPs from scratch and start using for real results
Dogfooding Horizon view – VMware OneDESK – VMware employees use a horizon environment testing out features as they are released.