vToolbelt – May 2018
Upcoming Events

Toledo VMUG (6/27/18) – There will be an HCI discussion and presentation about Expedient's datacenter. Get more information and register here.
Cincinnati VMUG UserCON (11/2/18) – Save the date and plan to be at the Sharonville Convention Center on November 2nd for the VMUG UserCon in Cincinnati.  Visit the VMUG.COM site to view the agenda and register.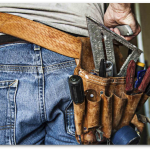 VMworld 2018
VMworld US returns to Las Vegas on August 26-30th 2018.  Early Bird pricing is in effect until June 15!
VMworld Europe will be back in Barcelona from November 5-8 2018
Notes from the Field
vSphere
There are two new releases of vSphere in the last few weeks.  vSphere 6.7 was released first followed a few weeks later by 6.5 Update 2.  Keep in mind that these were being worked on simultaneously from (slightly) different code bases.  This has 1 peculiarity that you need to understand.  If you upgrade to 6.5 Update 2 now, you will have to wait a bit before you can upgrade to 6.7 (you will have to wait for 6.7 Update 1 or Update 2)  This isn't a "never scenario" – it just means "not yet"…
Want to learn what's new in vSphere 6.7?  Check out this Lightboard  Video.  You can also check out this VMware TAM Webinar.  Before upgrading, you might give this new ESXi Compatibility Checker script a try.
The architecture of the vCenter Server Appliance is changing a bit.  Read up on those changes.  Spoiler – the direction is moving back to a more simplified model and allowing you to use an embedded PSC (even with Enhanced Link Mode).  While everyone likes the KISS method (Keep It Simple Silly),  What do you do if you already have an external PSC?  Don't worry – there will be some news on how you can transition back from an external PSC.  Stay tuned – more on that to come in the next few months.
This is all well and good you say; but what about the HTML 5 client?  Funny you should ask!  While vSphere 6.7 now allows you to use HTML 5 for the most common every day functions, there are still a few tasks that require the Flash version.    VMware is targeting Fall 2018 for full feature compatibility in the HTML 5 client.  Just don't shoot me if that slips… 
A few more links about vSphere 6.7
If you are working towards your vSphere Datacenter certification (VCP-DV) or have it update it (like I do) – you might check out Simon :ong's Practice Exams.
A networking issue has been discovered with Windows 2008 R2 and version 10.2.0 of VMware Tools.  It leads to network port exhaustion.  You can download  an installer for  VMware Tools  10.2.5 from the VMware Portal that corrects the issue.
For those of you who are running virtual Standard Switches on your hosts and want to know how to migrate to the virtual Distributed Switch, here is one take on how to migrate.
vSAN
If you have ever thought about setting up a 2-node vSAN cluster (for a remote closet or other small need), you may wonder how the Witness works in this situation.  You can setup the Witness for this as a nested ESXi host.  The following article describes how you will configure networking for the vSAN Witness Traffic.
A helpful person has written a tool to pull vSAN metrics from your vSphere cluster and convert them to be used in a time series database which may be helpful if you are already using Grafana or something similar.  Link
If you are worried about sanitizing vSphere object information when sending data off to VMware Support – check out the Download Obfuscation Map Feature.
While most of us don't have to do a full shutdown of our datacenter's often – what would happen if you needed to shutdown a vSAN cluster that had vCenter running in it?
Extra Bits