vToolbelt – October 2019
Hello everyone!   It may not feel like fall yet; but it is October already!  A few key things in the VMware Virtualization space this month: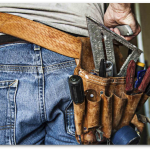 A number of core vSphere products are nearing the end of General Support (particularly vSphere 6.0 & vCenter Server 6.0).  You can find out the exact date in the Product Watch section.
On October 16th, VMware will host the vForum, a live on-line virtual event that you can attend for free.  Get more details below
Upcoming Events
On-Line vForum (October 16th)
vForum is VMware's largest virtual event and will provides access to the latest information on VMware technology.  It is a live on-line event that is free and does not require travel.  There will be 38 technical breakout sessions, live Q&A Video chats and Instructor Led Hands-On Labs.
Block out your calendar for the afternoon of October 16th and register today!

Product Watch
The following products are nearing the End of General Support.  You can find the full list on the VMware Lifecycle Product Matrix.
App Volumes 2.13 – 10/19/19
vCenter Server & ESXi 6.0 – 3/12/20
NSX-V 6.3 – 2/2/20
NSX-T 2.3 – 2/28/20
Site Recovery Manager 6.0 & 6.1 – 3/12/20
ThinApp 4.7.3 – 10/31/19
User Environment Manager 9.3 – 1/4/20
vRealize Orchestrator 7.3 – 12/17/19
vRealize Network Insight – 3.9 – 12/20/19
vRealize Automation 7.3 – 12/17/19
vRealize Operations for Horizon 6.6 – 3/20/20
vSAN 6.0, 6.1, 6.2 – 3/12/20
vSphere Data Protection 6.0 & 6.1 – 3/12/20
vSphere Replication 6.0 & 6.1 – 3/12/20
Workspace ONE UEM Console
9.4 – 11/2/19
9.5 – 1/2/20
9.6 – 2/13/20
Notes from the field
There were a few product changes in the Horizon suite in the last 2 weeks.  Horizon 7.10, App Volumes 2.18 were released.  User Environment Manager was renamed to Dynamic Environment Manager and a new version (9.9) was released.  You can read more about these changes in the VMware Tech Zone.
If you are constantly building VD templates you may be interested in finding a way to automate this work and get some time back.  Someone has found a way to do this with VMware Code Stream and HashiCorp's Packer.  Read on.
NSX-T 2.4 introduced some changes in how management is architected.  There is also a new "next-gen" Reference Design Guide for NSX-T available.
If you are really interested in NSX, you may want to follow @hari5611 and check out the NSX Tips he tweets out every day.
Does the speed of your cache device in vSAN affect how large it needs to be?  TL;DR is yes; but read on to learn why.
Do you have .PNG files on your datastore?  Do you think you can delete them?
vSAN 6.7 U3 brings some changes to vSAN capacity planning.
Francis Daily has compiled a pretty extensive list of vSAN Resources.
Are you getting the most out of VMware's documentation?  Did you know that you can create a custom documentation library or create custom search engine's for VMware KBs and Products?  Take this Documentation Tour and life hack your way to faster and better results!
vMotion has been around for a long time and for many of us is the feature which turned on the lightbulb for virtualization.  There is still more to learn about it.  Take a deep dive into troubleshooting vMotion.  You can also learn how to tune vMotion for faster migrations.
VMworld isn't over yet!  Stay tuned for more product announcements as VMworld heads to Barcelona on November 4th.  You can also view the VMworld US 2019 sessions at the VMworld On-Demand Library (free registration reqd)    I just finished watching the vSAN Best Practices (HCI3450BU) session.  I learned a lot.
I hope you found this newsletter useful. If there is anything I can do to make it better for you – let me know!
As always – please reach out if there is anything I can do to help!
Looking for an older copy of the newsletter?  Check out the archive.