vToolbelt – April 2020
Spring weather greetings from Ohio!   Anyone who lives in a climate that shifts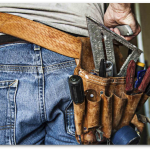 significantly in seasons will relate – we have had 70 degree days and snow in the same week!
A lot of our schools are on spring break so the news this month is light.
Product Support Watch
The following products are nearing the End of General Support.  You can find the full list on the VMware Lifecycle Product Matrix.
Dynamic Environment Manager 10/2006 – 8/11/22
App Volumes 4 – 7/9/22
App Volumes 2.18 – 9/16/22
Identity Manager 3.3.3 – 5/11/22
Identity Manager 3.3.4 – 8/4/22
Workspace ONE UEM Console 2010 (SaaS Only) – 4/14/22
Workspace ONE UEM Console 2011 – 7/15/22
Workspace ONE Access 20.10 – 5/2/22
Workspace ONE UEM Console 2101 (SaaS Only) – 7/22/22
vRealize Automation 7.6 – 9/1/22
vRealize Orchestrator 7.6 – 9/1/22
vRealize Operations 8.1.1 – 7/9/22
---
Notes from the Field
If you are looking to get started with NSX – Check out the NSX-T Easy Adoption Guide.
As you are probably aware, VMware is recommending moving away from SD-Cards as a boot method for ESX.  One of VMware's engineers has written a blog article on how to move from booting ESX from SD-Cards to using locally attached  SSDs.
The Performance Best Practices for vSphere have been updated for 7.0 U3.
If you operate vSAN, you may be interested in learning more on how vSAN reports data usage – The Importance of Space Reclamation for Data Usage Reporting in vSAN | VMware
If you are interested in Carbon Black – check out the Carbon Black Tech Zone.  Everything to help you learn how to get the most out of it organized into easy to consume activity paths.
If you haven't taken a look at how VMware Skyline can help you avoid downtime and get those SRs resolved faster – take a look at how the University of Houston uses Skyline.
Booting ESX hosts from SD-Cards
KB 83376 – discusses the issues that can arise when the SD card boot device has exhausted its write capability.  This KB also describes a work around VMware has developed to allow low endurance SD Cards to work with vSphere 7 Update 2.  It involves a manual one-time config change which moves certain highly accessed files to a RAM Disk. vSphere 7.0 U3 automated this process.
While this should help with vSphere 7.x, I am not sure what the future holds for SD Cards as ESX boot devices.    If I had to guess, I would imagine that the I/O requirements will increase over time as ESX continues to evolve.
It is advisable to consider adding higher performance/endurance boot devices into a future budget or into your next hardware refresh plan.