Adding VMware Tools Updates to vSphere Lifecycle Manager
Updated – 12/28/22 – based on user feedback I have updated this article.
There are times where VMware Tools updates are published outside of a vSphere release/update.  This can be due to a bug fix or a security advisory (ie: VMSA-2022-0024)
This new VMware Tools package can be easily added to your ESXi hosts so your virtual machines can be updated.  If you are still running vSphere 6.x, the VMware Tools package will be  updated using Update Manager.
vSphere 7 introduced Lifecycle Manager which can now be used for this update.  Here are the steps:
Login to vCenter, and navigate to Lifecycle Manager (click on the hamburger menu -> Lifecycle Manager)
Create the Baseline
Click on the Baselines menu and click New -> Baseline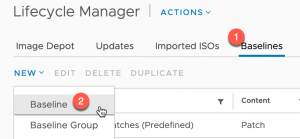 Supply a Name for this baseline, choose Patch, and click Next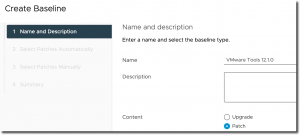 Uncheck the box to Automatically Update this Baseline with Patches

On the Add Patches Manually screen, turn off the Show Only Rollup Updates option.  Click the filter option on the Name column and use VMware Tools as the criteria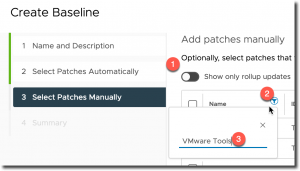 You will want to find the VMware Tools release that matches the version you are trying to install.  In my case, I am looking for VMware Tools 12.1.0 so I can remediate a VMware Security Advisory.
Check the box next to the  VMware Tools 12.1.0 Async Release, and click Next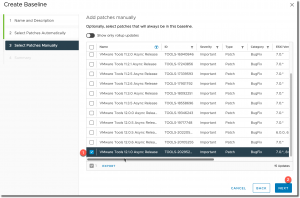 The Summary screen should list 1 patch – VMware Tools 12.1.0 Async Release.  Click Finish.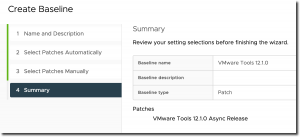 This baseline has been created and can be attached to any Cluster or Host for remediation.
Patch the hosts using the new baseline
For this example, I will navigate to a vSphere Cluster and click on the Updates tab, and click on Attach -> Attach Baseline or Baseline Group in the Attached Baseline section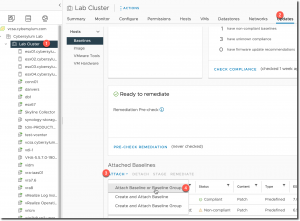 Check the box for the newly created baseline and click Attach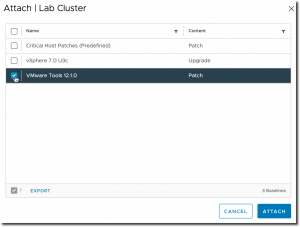 Click on Check Compliance to have Lifecycle Manager compare the attached baselines to the hosts in this cluster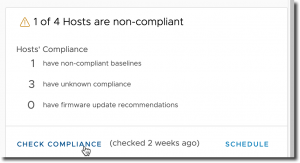 After the Scan Entity task completes, scroll down to the Attached Baselines section and check the box for your new baseline, and click Remediate

A summary screen will be displayed so you can confirm the actions that will be taken.   It should show 1 patch will be applied (VMware Tools 12.1.0 Async Release).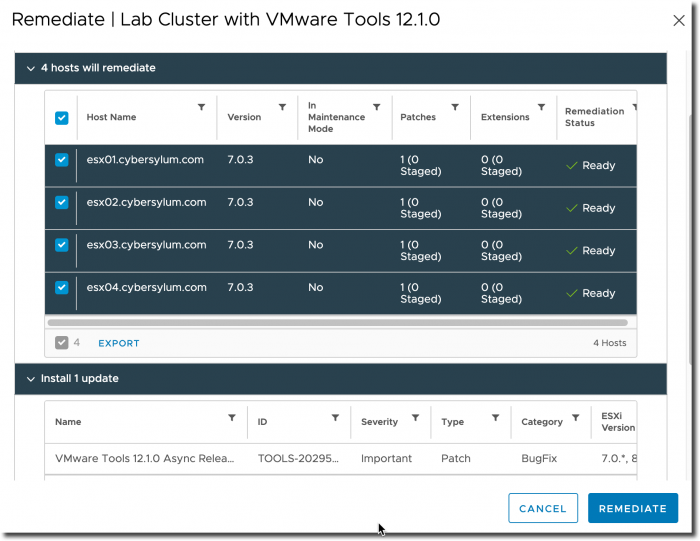 When you are ready to proceed – click Remediate.  A new task will begin (which can be viewed in the Recent Tasks pane)

 Host Reboot Not Required

When applying an async update of the VMware Tools package to an ESXi host via LifeCycle Manager - a host reboot is not required.
Once the host(s) have been updated, the VMs on the host(s) will be show that a new version on of VMware Tools is available .

Several readers have commented about their experiences using these steps and report slightly different behavior than what I describe.  I value feedback and wanted to include the information they reported.  It is entirely possible I missed documenting something or differences in environments caused slightly different behavior.  Either way I appreciate their readership and taking the time to let me know.   In my view, this
highlights the importance of setting up test environments that mimic your production systems
.
Maintenance Mode – it was reported that the hosts were placed into maintenance mode when remediating the hosts with the new VMware Tools package
Host Reboots – it has also been reported that the hosts did not show that updated versions of VMware Tools were available until after a reboot