vToolbelt – December 2017
Somehow, November managed to slip right past me!  I'll blame it on all of the Turkey I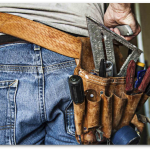 ate…    This newsletter has a number of articles you might find useful in your own environments.    There should be a little something here for everyone – from VDI to vSAN, and NSX, and vSphere.
Now excuse me – I have to go finish start my Christmas shopping!
Notes from the Field
Desktop
Do you have a Microsoft Licensing agreement that comes with Azure credits?  If so, you may be able to use them to host Desktops or Applications for your users.  That's right, with Horizon Cloud, you can use Azure credits to run Windows Desktops and Applications in the Azure Cloud.
You can now backup AppStacks and Writeable Volumes  that you use in AppVolumes with a utility from VMware Flings.  It is called App Volumes Backup Utility. It uses API calls to create a backup VM and attaches the underlying VMDKs for the AppStacks or Writeable Volumes to the VM.  You can then use your backup solution to backup that VM.
Ever want to put some text on the desktop of your VDI sessions?  With the Desktop Watermark fling – you can do just that!
vSAN
One of the many advantages of using vSAN for shared storage in your VMware environment is that you can grow storage over time by adding drives.  At some point, you will need to replace a smaller drive with a larger one.  The VMware Blog has a write up on how to do this when Deduplication and Compression are enabled.
When you have vSAN providing storage in your environment, you do need to consider your options when taking a host down for maintenance. It may also be helpful to have a good understanding how vSAN handles data Rebuilds and Repairs.  There is also a short video describing how rebuilds work in vSAN.
There are a number of tools to help you troubleshoot the environment when something unexpected happens with vSAN.  Here is a list of good tools that you can use.
Ever wonder how vSAN handles component redundancy?  This is accomplished by the witness and voting system by hosts on each component.  Learn more here.
NSX
Put the URL for this KB article in your newsreader or browser favorites – KB 2131154.  This is a running KB article that lists trending support issues each month.  If you are running NSX, it would be good to keep an eye on it.
VMware does eat it's own dog food when it comes to their software products.  This video discusses how VMware implemented Micro-Segmentation internally and deployed a large private cloud using NSX.
If the applications in your environment use non-standard ports, you can create a custom service in NSX that will allow you create policies to block/allow traffic easily.
Do you automate your environment to create infrastructure-as-code?  If you use Ansible, you can now incorporate NSX infrastructure into that playbook.  VMware has released  a set of Ansible modules for integrating with NSX on Github.
vRealize Network Insight 3.6 was released in November.  This blog provides a good technical overview of the product and changes in this version. One of the useful additions in this release is that vRNI now supports external sources for NetFlow.  This can help provide deep insight even after the traffic leaves your virtual infrastructure.  VMGuru has published a cheat sheet on using the natural language search features in vRNI.
vSphere
If you are planning your migration to vSphere 6.5, take a look at this series on Upgrade Considerations.
Virtual Volumes is a framework that is included with vSphere that allows shared storage to migrate away from a LUN/Datastore mindset.  If your SAN vendor supports VVOLs, you can migrate away from LUNs to the idea of a storage "container" that can grow/shrink dynamically.  It also has the benefit of moving many storage-based operations to the storage controller directly – particularly VM cloning and snapshots.    Here is a video series that introduces VVOLs.
If you are using the built-in VMware Certificate Authority that is present in vCenter 6.x, did you know you can download the vCenter Root Certificates to your browser to avoid the pesky untrusted site warnings every time you login to vCenter?
If you are planning a migration to Windows Server 2016, you might be interested in some steps on how to optimize your new VM template on vSphere 6.5.
One of the new features in vCenter 6.5 is the idea of the Content Library.  This is a central place to store your templates and ISOs.  Did you know you can setup replication of the Content Library between different vCenters?
The vCenter Server appliance runs a Linux OS.  It is also configured (by default) with a lockout mechanism.  If you fail the password too many times, you can lock yourself out of the appliance which will prevent you from upgrading vCenter and managing the appliance.  If you like, you can disable account lockout on VCSA 6.5. Even if you don't want to disable this feature, you may want to save the article as it describes how to recover from a lockout scenario.
Thank you all for your support and feedback on this newsletter.  As the year winds down, be sure take time to enjoy your family and friends!
Wishing you Happy Holidays and a Happy New Year!