vToolbelt – January 2018
And just like that, we are heading into the home stretch of January!  When I began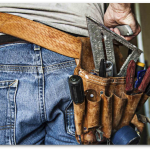 writing this newsletter when we had 4-5 inches of white stuff on the ground.  I can happily report that now that I've published the article – the snow is gone.  However, I am writing this in Ohio, so by the time you are reading this we probably have another inch or so…
Upcoming Events
Toledo Q1 VMUG (3/7) – This is for those of you in the Northwest part of Ohio. The Toledo VMUG is meeting again!  This event is Wednesday, March 7th from 11:30am-1:30pm.  Lunch will be provided. VMware Staff Engineer Tom Zukowski will be presenting on NSX.  Get more information and register here.
OARnet / VMware Education Day (3/27) – OARnet and VMware invite you to a free educational event at the Ohio Farm Bureau 4-H Center in Columbus, Ohio on March 27th.  There will be education tracks along a number of topics (Cloud, Automation, Security and more!)  Sign up today!  View the agenda and register.
Central Ohio VMUG UserCON (4/3) – Save the date, and plan to be at the Convention Center in Columbus on April 4 for one of the largest VMUG events in the mid-west!   The agenda hasn't been released yet; but watch the VMUG UserCon page for news!  I will post an update once I hear the registration page is up.
VMworld 2018
Product Update
vSphere 5.5 End of Life – September 19th, 2018 – This version of vCenter and vSphere ESXi reaches its End of General Support phase.  The products will continue to operate after this date; but will no longer have telephone support available.   Refer to the VMware Knowledge Base for more information – KB51491
Notes from the Field
NSX 6.4 – The latest version of NSX (6.4) was released recently.  There are a huge number of features and improvements in this release.   Some other NSX-releated news you might like:
vSphere – For those of you who are still getting up to speed on vSphere 6.5, take a few minutes to watch or listen to this VMware Community Roundtable Podcast on key insights to vSphere 6.5.   In other vSphere news:
vSAN – Since vSAN is configured at a cluster level, you might be wondering what would happen if you needed to replace your vCenter.  Read on to learn how to replace vCenter that has existing vSAN hosts.  A few other tidbits you might find interesting:
Horizon
PowerCLI
If it is still too cold and dreary to go outside, take a few minutes and catch some of the Virtualization Industry players on TechConfessions the Show