Hello!  Time has flown and it's time for another vToolBelt!      I am adding a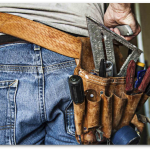 new feature called Product Watch.  This will call out any VMware Products that are headed into End of General Support within the next 6 months.  The other big topic is the release of vSphere 6.7 Update 1.  Read on for details!
Product Watch
The following products are nearing the End of General Support.  You can find the full list on the VMware Lifecycle Product Matrix.
AirWatch Console
9.1 – 10/26/18
9.2 – 3/21/19
Identity Manager
2.9 – 10/26/18
3.0, 3.1 – 3/21/19
Fusion 10 – 3/26/18
App Volumes 2.12 – 12/6/18
vRealize Automation
7.0, 7.1, 7.2 – 12/17/18
vRealize Business for Cloud
7.3 – 3/15/19
7.4, 7.5 – 4/12/19
vRealize Network Insight
3.7, 3.8 – 2/22/19
3.9 – 3/20/19
vROPs for Horizon
6.4 – 12/8/18
6.5 – 3/21/19
vRealize Orchestrator
7.0, 7.1, 7.2 – 12/17/18
vSphere Data Protection 5.5, 5.8 – 11/14/18
Workstation 14 – 3/26/19